NEWS
Jon Gosselin Takes a Turn Tagging Along With the Kids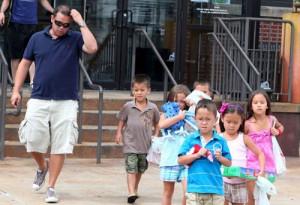 Jon Gosselin was spotted spending some quality time with the kiddies on Monday in Wysomissing, Pa. at The Works Arcade. Jon gave Kate Gosselin a break and took the sextuplets out for a day of fun with dad in their hometown. Everyone looked to be in good spirits and the kids were laughing and running around the whole time they were out.
Looks like the Gosselin kids won big at the arcade. They all headed home with tons of goodies in tow and seemed very happy about it.
Article continues below advertisement
As for Jon, he looked less than thrilled to have photographers snapping his pic. When asked about the recent settlement with ex-wife Kate, a stoic Jon said that he had no comment.