NEWS
Jon Gosselin Will Spend Thanksgiving With Hailey Glassman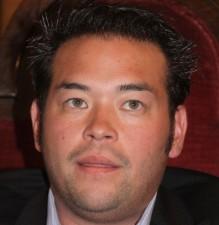 Jon Gosselin is ditching his eight children to spend Thanksgiving with the on—off girlfriend who recently described their relationship as being emotionally abusive.
During a joint interview with Hailey Glassman on Entertainment Tonight, Jon admitted that his holiday plans didn't involve his estranged wife Kate Gosselin, 34, and their brood.
"My family and I would never let him eat Thanksgiving dinner alone in an apartment," says Hailey, who has said that Jon "emotionally abused" her. "He's coming to our house for Thanksgiving. I don't care."
Article continues below advertisement
Wait, didn't these fame—seekers break up? Apparently the pair are as confused about their relationship as we are.
"I still planned on going to her house on Thanksgiving; that was on my schedule," said Jon, 32, as Hailey raised her eyebrows.
"On your schedule? What do you mean, 'On my schedule?'" snapped Hailey.
She added, "Let's see, Kate has the kids, and she's having a nice huge meal with Steve and his family. Uh, let's see, should I go to Hailey's or should I sit in my apartment all alone?"
"Sorry, I used the wrong term," responded Jon. "I plan on going — I made a promise to her family I would go to her house."
"Made a promise? You're not doing my family any favors!" replies Hailey.
"We know what the right thing to do is. We know what we both need," she continues. "He needs to do his thing and I need to do my thing. We both know this."
Meanwhile, RadarOnline reports that Hailey will be interviewed by TLC's law firm Williams & Connolly in the breach of contact suit against the former Jon and Kate Plus 8 star.
On Nov. 4, the court granted a slew of motions filed by the Washington D.C—based law firm to depose Hailey, Jon's bodyguard Thomas Meinelt and four other witnesses: Michael Heller, Mark Heller, Matthew Kirschner and Michael Lohan.
TLC alleges that Jon breached his exclusive contract with them and Williams & Connolly is on a fact—finding mission to establish Jon's other sources of income.
Michael Lohan has stated publicly that he and Jon were lining up a new reality TV show about divorced dads.