NEWS
Jon Gosselin's NYC Apartment Burglarized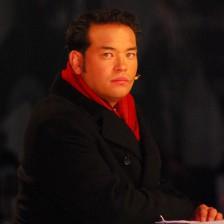 A few days after ex-girlfriend Hailey Glassman moved out of Jon Gosselin's NYC apartment, the TLC reality star was burglarized on Saturday, according to Gossip Cop.
A source at Gossip Cop reveals that Jon's Upper West Side pad was broken into this morning as he called the police, who are now investigating the scene.
According to sources at TMZ, the apartment was put in shambles by the intruder, who also apparently left a note for Jon signed in Hailey Glassman's name, although anyone could have forged her signature.
Article continues below advertisement
The note, labeling Jon as a "cheater," had a knife jammed through it, sources at TMZ report.
Jon was recently suspected of pocketing Hailey's rent money as the apartment is listed under both of their names.