NEWS
Jon Hamm on 'Bridesmaids' Sex Scenes with Kristen Wiig: "Might as Well Enjoy It"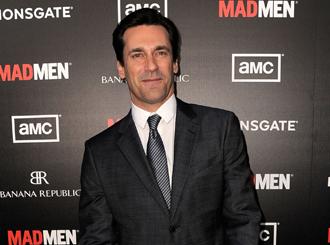 There are three main questions we've always wanted to ask Jon Hamm and Playboy just got the answers to them all! In the new interview, Jon opens up about those awkward sex scenes in Bridesmaids, his thoughts on having children with his longtime girlfriend Jennifer Westfeldt and what it is really like playing the heavy-drinker Don Draper on Mad Men.
OK! GALLERY: MAD MEN STARS CELEBRATE SEASON FIVE INS TYLE AT HOLLYWOOD PREMIERE
Article continues below advertisement
Let's start with those sex scenes!
Jon tells Playboy of filming those scenes with Kristen Wiig in Bridesmaids that, "It's like running in the rain. There's a certain point where you go, 'F*** it, I'm already wet. I'm not going to get any less wet, so I might as well just enjoy how this feels.' I mean, sure, there's an awkwardness about being in a weird flesh-colored thong, bouncing on top of an actress.
"And I am not a small human being," he adds. "I weigh at least 200 pounds and I'm six-foot-two. And Wiig is a twig; she's a skinny little thing. I told her, 'Just punch me in the side if I'm hurting you.' It's weird and uncomfortable at first, but then all the awkwardness melts away and you think, 'All right, we're doing this, so let's have fun with it.' … You're in that moment and it's happening and it's not going to get any better, so you might as well enjoy it."
Article continues below advertisement
Not a bad attitude!
OK! GALLERY: JON HAMM & JANUARY JONES ATTEND THE PALEYFEST 2012 HONORING OF MAD MEN
Jon currently stars in the new film, Friends With Kids, with his longtime love Jennifer, but tells Playboy that he's not sure he'll ever be a dad himself.
"We've seen enough of our friends, who shall obviously remain nameless, become parents, and sometimes it's hard not to think they shouldn't have had kids.… I don't have a driving force to have a baby," he explains. "That said, I'm in a committed relationship, and if it ever came up, I'm not ruling anything out. There's a reason it hasn't been prioritized, because I don't think either of us has that pull. I don't know; it could happen tomorrow. I have no clue."
But Jon does know that he doesn't want to have the same lifestyle as his Mad Men character.
"I think we've tried to portray that lifestyle accurately. A three-martini lunch is fun in theory. And it's fun to look cool while you're staring out of windows, drinking scotch and smoking," Jon says. "But the reality is, if you have a three-martini lunch, you don't get much done in the afternoon. And if you stare out the window and smoke too much, you get f***ing lung cancer."
The new issue of Playboy hits newsstands this Friday!