NEWS
Jon Hamm & Jennifer Westfeldt on Their 'Friends With Kids': 'Tectonic Shift That Happens'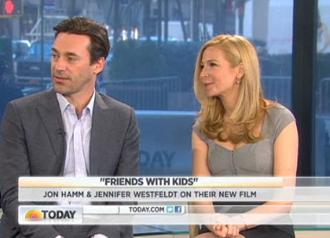 Jon Hamm and his girlfriend Jennifer Westfeldt stopped by the Today show this morning to promote their new comedy Friends WIth Kids. Jennifer is the writer and director of the film, and the two also produced the project. The couple has been together for 15 years, but do not have children themselves, and admit their friends helped inspire the story!
Article continues below advertisement
"Especially in the past four or five years, we have had so many friends and people in our world have babies and we've been observing the transition," Jennifer explained on the Today show. "It's this profound, life-changing thing, and to watch your closest people go through it but still be on the outside of it in some way, was sort of the kernel."
"There is a big shift, tectonic shift, that happens," Jon, star of Mad Men, adds. "It's been really fun. We love kids and we have a lot of kids in our lives, but watching how it all shifts is profound."
Friends With Kids also Maya Rudolph, Kristen Wiig, Megan Fox, Chris O'Dowd and Edward Burns and hits theaters this Friday!
Watch a clip of Jon and Jennifer's interview, below.
Visit msnbc.com for breaking news, world news, and news about the economy