NEWS
Jon Hamm: Why I Won't Get Married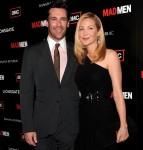 Jon Hamm plays the womanizing anti-hero of Mad Men, while off-screen he only has eyes for Jennifer Westfeldt — the woman he calls "the love of my life" — but don't think he plans to make it legal.
The actors met at a party in 1997 and Jon later helped her rehearse her lines for an audition. "She didn't get the part, which may be my fault, but she got the guy," he tells Parade magazine.
Article continues below advertisement
However, the actor (who plays Don Draper on the hit AMC show) doesn't want to say his "I do's" to the Kissing Jessica Stein star. "I don't have the marriage chip, and neither of us have the greatest examples of marriages in our families.
"But Jen is the love of my life, and we've already been together four times longer than my parents were married."
What about children? "I like kids but I also like the option to close the door. Becoming a parent is a whole other life, and it doesn't stop," he says.
As one of the hottest guys on TV, the 39-year-old has become a huge sex symbol. How does he handle all the attention? "That kind of stuff is only present if you give it attention. If it's not reflected back, it goes away. It's not like I'm Justin Bieber or anything."
Article continues below advertisement
OK! NEWS: CHRISTINA HENDRICKS SHARES STYLE SECRETS & STYLE ICONS
Jon insists that he's nothing like the mysterious hunk he plays. "I'm able to leave Don Draper at work. I'm quite dissimilar from him in real life."
Although like Don, Jon has had to deal with some tough times early on in life. "Losing both parents at a young age gave me a sense that you can't really control life — so you'd better live it while it's here," he says.