STYLE
Christina Hendricks Shares Style Secrets, Icons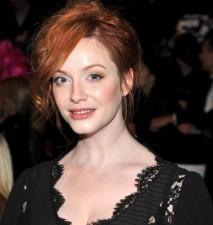 Christina Hendricks dolls up the front row of the Badgely Mischka show today during Mercedes-Benz Fashion Week, held in NYC.
The Mad Men star, 34, makes no secret that this world is new to her.
"This is my first show ever," she says as AnnaLynne McCord, Bethenny Frankel, Kelly Killoren Bensimon and Erin Lucas take their seats. "I've been in them, but I've never been in the audience."
For Christina, style has become second nature thanks to Mad Men's costume department.
Article continues below advertisement
"I've learned about tailoring, tailoring, tailoring," she says. "I don't think I ever walk into a shop anymore and think, 'Oh, I love it, I wish it fit.' I think, 'Oh, I love it. Let me go make it fit.' Jeans I don't generally have to tailor, but I have to oftentimes with tops because I'm a bit curvy."
She adds, "I've learned what's flattering on me and what works for me."
MORE ON:
michelle williams
Still, Christina can't resist the urge to rebel, singling out peach and coral as her favorite shades.
"It's that kind of color that redheads aren't supposed to wear that I love," she says. "That sort of ballet-pink color."
The actress, who recently wrapped Life As We Know It with "Katie Heigl" (as she calls her — cute!), looks to a certain celebrity mom/Shutter Island star when it comes to style icons.
Article continues below advertisement
"I think Michelle Williams looks amazing," she says. "I love how she always presents herself. She always looks great. Charlotte Gainsbourg, too. I have a little 'girl crush' on her."
Hmm, what does she think of the beard Mad Men co-star Jon Hamm is sporting these days?
"Oh, I don't care. I think it's funny that everyone cares so much about his beard. I think they just care about Jon Hamm. I think if it just gives us a reason to talk about Jon Hamm, then we should, because he's so handsome. He looks good either way. He really can do no wrong."
Scruffy men aren't her type, though.
"I like to mix it up," she says.
Sounds like her actor hubby, Geoffrey Arend, has room to experiment.