NEWS
Jon & Kate Officially Divorced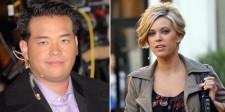 It's now official! Jon Gosselin and Kate Gosselin are divorced, TMZ reports. Judge Arthur Tilson has signed the final papers making Jon and Kate legally divorced.
Kate's lawyer, Mark Momjian, told TMZ, "Our client will continue to reside with all eight of her children in the former marital home," under the agreement.
"I am very relieved that our divorce has been finalized, and I look forward to the New Year, focusing on our children," Kate said, calling the divorce "challenging" and the family will now focus on "restructuring our lives."
Article continues below advertisement
Kate's lawyer added about everything was divided between Jon and Kate, saying, "We are very pleased with the final outcome."
Glad the drama has finally come to an end — at least for Kate! Jon may still face some legal troubles.
According to TMZ, Jon will be facing financing trouble because he has large child support payment to be making and can't afford to pay it.
Under the abitrator's award, Jon must make child support payments reportedly as high as five figures a month. The problem is, TLC has stopped Jon from being allowed to take outside jobs.
Also, the $235,000 that Jon took out from their joint account will be deducted his part of the settlement.
As for the money Kate withdrew? The arbitrator decided that money was withdrawn for the benefit of the kids.
Under the divorce decree, that both Jon and Kate agreed to in advance, Kate has primary custody and Jon gets visitation.
They also agreed that neither one would be given spousal support.