NEWS
Jon Voight Calls Brad & Angelina's Brood: "Beautiful Children"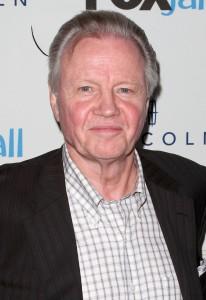 Jon Voight gushed to reporters about his granddaughter, "Shiloh — boy, she's a smart one!" While promoting his new TV show Lone Star at the FOX Fall Eco-Casino party at Boa Sunset on Monday night, Jon sung the praises of Shiloh and his other grandkids from the famous Brangelina brood.
Jon laughed affectionately about his daughter Angelina Jolie and her partner Brad Pitt's daughter Shiloh, "She's four years old but you can never tell what she knows to look at her face all the time."
Article continues below advertisement
OK! VIDEO: ANGELINA JOLIE SAYS THAT SHE DOESNT HAVE A LOT OF FRIENDS
But she's not the only one, he said. "All the kids are smart, I tell you. They're beautiful children."
Jon said he doesn't even mind too much when his grandchildren get gossipy press: "Sometimes you don't like it because sometimes it's distorted stuff. But I like seeing them no matter where they are. I don't read the stuff; I just look at their picture and swoon. I love them."
OK! NEWS: ANGELINA JOLIE TO HELP EDUCATION IN BOSNIA & FILM A LOVE STORY
The former Midnight Cowboy star, who now plays an oilman and family patriarch in Lone Star, has been filming the FOX show in Texas and using Skype to communicate with his family.
"I've been away from my computer so I couldn't get back to Maddox," revealed Jon, who is in L.A. this week to promote his show. "I'm probably going to see him while I'm here. If I can see them in the flesh, that's better than Skype.
Jon's daughter and Brad have six kids: Maddox, Pax, Zahara, Shiloh, Vivienne and Knox Jolie-Pitt.