NEWS
Jonah Hill Goes "Donald Ducking" During Drunken Nights With Channing Tatum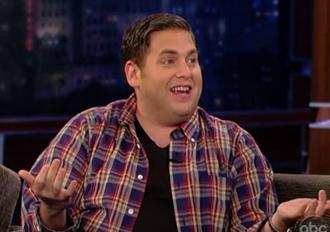 Jonah Hill and Channing Tatum have been livin' it up while promoting their new comedy 21 Jump Street all around the world. Jonah stopped by Jimmy Kimmel Live last night and explained how the studio gave them a plane "filled with beer" and they've been taking advantage of it!
OK! GALLERY: CHANNING TATUM & JONAH HILL CELEBRATE THE 21 JUMP STREET PREMIERE IN HOLLYWOOD
Jonah claims he's not a big drinker, but with the plane they've been "drinking so much on this tour, it's insane."
Article continues below advertisement
"I'll get drunk, we'll go out and have fun," Jonah explains to Jimmy Kimmel on Jimmy Kimmel Live. "I'll go back to my room and I'll sleep in like boxers."
Unfortunately, Jonah has developed a crazy habit from their wild nights.
"I wake up the next morning, without knowing what happened in the meantime, with a dress shirt, a tie, no pants or underwear, dress socks, dress shoes completely tied. We call it Donald Ducking," Jonah says of the look. "But not like casual Donald Ducking, but business casual Donald Ducking."