NEWS
The Jonas Brothers Answer the Tough Questions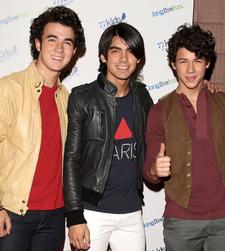 The Jonas Brothers recently sat down with AOL Moviefone Unscripted where they revealed their more, shall we say, relaxed side, for fans.
Kevin, Nick and Joe Jonas asked each other questions from fans, covering every topic from who they'd love to tour with to what songs they love to sing in the shower.
"A big one for us that we sing all the time is...Rick Astley's "Never Gonna Give You Up," Kevin said, while attempting to cover the song. "Have you ever seen him, by the way? His voice does not match his body!" he joked as the audience laughed.
Article continues below advertisement
The brother also admitted they'd love to win a Grammy and take on a world tour with none other than the man himself, Prince!
"I think to perform with Prince would be incredible," Kevin says. "I think that would be one of the best things of all time."
The guys have a new movie coming out, The Jonas Brothers 3D Experience, and they say they hope fans will really get a kick out of some of the effects.
"I really hope the fans take away a family aspect of this whole thing," said Nick. "For all of us, we really wanted to really make this interactive with the fans and make them feel like they were right there on stage with us."