NEWS
Jonathan Rhys Meyers' Back on Track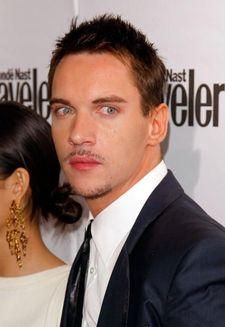 Third time's a charm for The Tudors star, Jonathan Rhys Meyers, who plays the oft-married monarch Henry VIII in the Showtime series.
Not only is he celebrating his third season with the show, he's also celebrating his third try at sobriety.
Despite his constant battles with alcoholism, Jonathan's co-stars are confident in his recovery, including Annabelle Wallis who plays Henry's third wife, Jane Seymour.
Article continues below advertisement
"Everybody goes through things in their life, and I respect Jonathan for the choices that he makes," Annabelle told our OK! stringer Jac'leen Smith at Tudors event sponsored by Gourmet magazine last week.
"It's very hard to confront things in life and I think he's done a very wonderful job of it, and he's all good now."
Looking very polished in a tailored-gray suit, Jonathan didn't show any signs of troubles with his alcoholism at the "Royal Affair" event.
According to a source at the party held in Conde Nast's NYC Times Square headquarters, this would be Rhys first appearance since his stay in a British rehab facility in February.
Jonathan also did a stint at Promises Facility in Malibu, Calif., in May 2005 (actress Lindsay Lohan also received treatment there for substance abuse), and returned again in April 2007.
Tudors creator Michael Hirst says he's rooting for the star.
MORE ON:
Jonathan Rhys Meyers
Article continues below advertisement
"I think that what you see in Season Three, this is his best series. He was totally dominating this show," he said.
"Johnny is dangerous and that's why we wanted to cast him. I mean, I don't care very much about everything else, but when he comes on the set, he's the king.
"Nobody quite knows what to expect and that's perfect for Henry VIII. That's exactly how I wrote it. I couldn't have imagined a better actor to play Henry VIII. I love Johnny to pieces."
Do you think Jonathan is the real royale? Check out the next episode of The Tudors, airing Sunday, April 12 at 9 p.m. on Showtime.