NEWS
Jonathan Rhys Meyers Banned from Flight for Drunken Behavior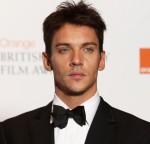 The skies aren't so friendly to Jonathan Rhys Meyers, well, especially if he's been drinking. A new report says the Tudors star, who has had some problems with alcohol and airports in the past, has been banned from flying United Airlines after a recent drunken incident.
According to RadarOnline's sources, earlier this month Jonathan was booked on a United Airlines flight going to L.A. from NYC's John F. Kennedy airport. Sources say airline workers noticed the actor "pounding drinks" in the first class lounge and getting more and more rowdy as he waited.
Article continues below advertisement
When it came time to board the aircraft, he was barred from flying due to belligerent" and "disruptive" behavior that "was getting out of control."
OK! GALLERY: WHEN THE EYES OF IRISH STARS ARE SMILING
RadarOnline.com contacted United Airlines, which confirmed the story but would not elaborate, citing passenger privacy laws.
This isn't the first time the Irish hottie has been in trouble with airport staff — in 2007, seven months after his first stint in rehab, he was arrested at Dublin airport and slapped with charges of being drunk and in breach of peace. Those charges were dropped, but then in 2009, after a third stint in rehab, he was arrested after allegedly attacking a number of staff at a bar in Paris' Charles de Gaulle airport.