NEWS
Joseph Gordon-Levitt Talks Wanting to Kiss Anna Kendrick in '50/50'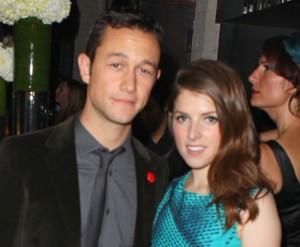 WARNING: This post contains spoilers!
For those hopeful of an on-screen makeout session between Joseph Gordon-Levitt and Anna Kendrick in 50/50 — it's not going to happen. But don't worry, despite the lack of kissing between the co-stars the movie offers a whole lot more, and has received rave reviews from critics. But wait... why no smooch?
"We very much resisted them kissing," writer Will Reiser told MTV News. "The movie is not a love story. It's about a guy's battle with cancer. If it turned into a love story at the end, we would be betraying what the movie is about. That kiss is the start of another movie."
Article continues below advertisement
And Anna was certainly relieved that she didn't have to lock lips with Joseph.
She shared with MTV: "The studio wanted to see us kiss at the end, actually. We were thinking about just trying it as an option. Joe very wisely stood up and said, 'If we give it to them as an option, they will use it.' So we just decided not to do it, because it really just didn't feel right."
"It's a travesty," he said of the subject. "It's a horrible injustice, and I'm writing a letter."