NEWS
Josh Groban Relives Obama's Big Moment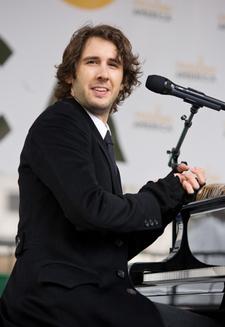 President Obama didn't get into the Oval Office on his own. Maybe more than any other candidate in history, celebs have played a huge part in his campaign.
And at least one of them felt like it was all worth it last night.
At the Feeding America Inauguration party in Washington D.C., classical singer and committed Obama supporter, Josh Groban relived the big moment with OK!.
"Being there, I felt this great call to service," he said.
Article continues below advertisement
"I didn't expect to be a part of the ceremony, but I worked really hard on the campaign," said the Grammy-nominated singer, who got to sing at the We Are One Inaugural Concert at the Lincoln Memorial on Jan 18.
"This guy is honest and that's why I didn't mind traveling and campaigning. It's given me a new perception and, of course, I feel hope," he said.
"Seeing all those people inspired me, definitely.
"Their happiness was definitely encouraging — this is such a huge moment and what a time for us to join together, and I hope we all do."
Be sure to pick up the latest issue of OK! for eight pages of exclusive inauguration coverage and photos!