NEWS
Josh Hutcherson & Elizabeth Banks Give Updates on 'Catching Fire': Do They Like The New Director?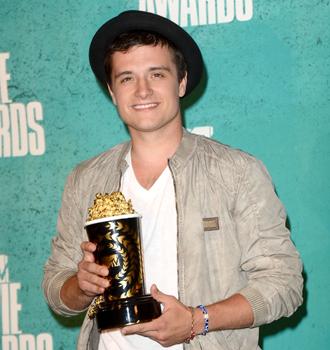 Article continues below advertisement
Josh revealed to MTV News that the film's new director, Francis Lawrence, who took over for Gary Ross, is "fantastic" and has a good grasp on the concept behind the story in Suzanne Collins' second book.
"I just had lunch with him a couple days ago, and he's fantastic. He's so smart and really has his finger on the pulse of the story, and I love the way he's going to structure the script," Josh said of Francis, who has some big shoes to fill.
"The first thing he said to me was, 'I want to make the movie out of the book. I want the book to be the best movie possible,'" Josh added. "That was immediately what he led with, which meant a lot to me because the books mean a lot to me."
Josh, who of course plays Peeta in the flicks, also revealed that shooting might move locations from North Carolina to Georgia... or even Hawaii!
"I haven't heard anything confirmed yet, but Atlanta is a big possibility. I know they're looking at Hawaii, too, for some of the tropic stuff when we're in the game itself," Josh admitted. "I'm excited. It's going to be somewhere nice. I'm looking forward to it."
Article continues below advertisement
Are you excited for Catching Fire?