NEWS
Josh Hutcherson Made Jennifer Lawrence "Pee Her Pants" on 'Hunger Games' Set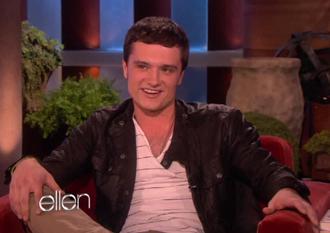 It wasn't all work and no play for Josh Hutcherson on the set of The Hunger Games. The 19-year-old actor sat down with Ellen DeGeneres and shared a hilarious prank he pulled on his 21-year-old co-star Jennifer Lawrence.
OK! GALLERY: THE HUNGER GAMES STAR JENNIFER LAWRENCE STEPS OUT IN BEVERLY HILLS
Josh didn't want to share too much about the movie to spoil it for fans, but he was more than happy to share an embarrassing story about Jennifer.
Article continues below advertisement
"The tracker-jacker scene — which is one of my favorites actually — we had this life-size dummy of one of the girls that had been attacked by these tracker-jackers, which are these giant wasp kind of things," Josh explained to Ellen on The Ellen DeGeneres Show. "We had this dummy of her, which is an inanimate object, so one day I put it in Jennifer Lawrence's trailer in her bathroom."
Well, you can probably guess what happened!
"So, she went to go to the bathroom and she had to pee — because you do when you have to go to the bathroom — and she opens the door and sees this dummy and screams and apparently peed her pants," Josh says with a huge smile. "Like literally laughed so hard she peed. So I was very proud of myself that I was able to pull off a prank like that."
"Well, congratulations on that one then," Ellen joked. "That's a good one."