NEWS
Joss Stone, Stevie Wonder give props to MLK Jr.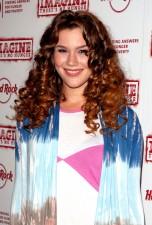 Joss Stone, Stevie Wonder and Garth Brooks are among superstars who turned up for the Dream Concert to benefit the Martin Luther King, Jr. National Memorial in Washington, D.C.
"Everybody keeps asking me 'why are you here?' because I'm English," friendly Joss says. "I'm like, 'I don't get that question.' He changed the world; he didn't just change America. He changed the whole world! If he didn't exist, we wouldn't be having this discussion. I wouldn't have the friends I do. There are so many things. Basically, he gave up his life — his whole life — just to make people happy, and to spread peace and help people understand that there is only one level. The one above that is God. There was nobody like that before him, and there was nobody like that after him. We need to keep remembering him. We need to keep talking about it. There are young people out there, and they need to know his name."
Article continues below advertisement
The soul singer mentions she's single and dreams of sleeping before kicking up her heels. "I have 20 minutes — I've gotta go sing. Peace, love everybody!"
Robin Thicke dashes by, saying, "I've gotta get inside!" as Garth Brooks picks up his cell phone. He's here to perform "We Shall Be Free."
Here comes Stevie Wonder. "People judge," he says. "Equality for every single person." What's his favorite thing to do in NYC? "I love walking."
Train's Pat Monahan brings his wife, Amber, to see him perform with Stevie. What's something we don't know about the Wonder man? "He can have a conversation and play a song at the same time," Pat tells me. "Inside his mind is a constant rhythm. There's never a stop to it. Yesterday I said, 'There's always music in your mind, isn't there?' He said, 'I like music.' "
Miri Ben-Ari tells me she strives to fight racism. "My dream is to promote messages like Dr. Martin Luther King, Jr. Also, my little humble dream was to play the violin to the pop world of today. I wanted to bring it back. I'm playing like an R&B diva."
Miss USA, Rachel Smith, gives her best beauty tip: "Drink as much water as possible. It cleanses the body and your skin. It keeps you hydrated." And how does Miss Teen USA, Hilary Cruz, stay in shape? "I work out in the morning; that's when I can't opt out. I eat whatever I want. I always feel satisfied because I'm eating the things I like in moderation. That's just common sense."
Time for the show…