NEWS
Joss Stone Talks Obama Performance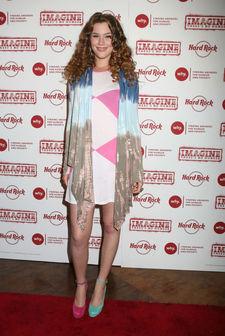 Joss Stone usually goes barefoot, but she's asking for attention when she wears one pink shoe and one green shoe to the Hard Rock Café New York launch party for the Serve3 CD. Proceeds benefit WHY, a nonprofit organization that strives to fight against hunger and poverty in America and around the world.
Joss calls performing at the London Hard Rock Cafe "legendary." Another big moment in her career was when president-elect Barack Obama asked the 21-year-old British songstress to perform a song for his campaign. What tips would she give other artists asked to sing for the First Family?
Article continues below advertisement
"I would say go ahead and do it," she tells me. "Don't be nervous. Don't be nervous is a really silly thing for me to say. Everybody's nervous when they're performing anywhere – especially when they're performing at the White House. But to get over nerves, you do it, and then it's over. So I would say go ahead. If you've been invited to perform, get right on there and do it. And if you're performing for Barack Obama? Can you imagine the honor? That would be amazing."
What can we expect from tonight's performance?
"My show is not choreographed," Joss says. "We just stand up and play music."