NEWS
JP Rosenbaum Tells OK! Fiancée Ashley Hebert Got Some Ideas From the Kardashian Wedding!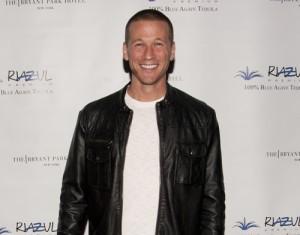 JP Rosenbaum can't reveal too much away about his upcoming nuptials to fiancée Ashley Hebert, but the handsome winner of The Bachelorette did gush a little bit to OK! about the hotly-anticipated wedding between the picture-perfect couple!
JP says while Ashely is still busy finishing dental school in Philadelphia, she has been jotting down some wedding ideas.
Article continues below advertisement
"She watched the Kardashian wedding, and she gets her thoughts, but I think once school is done and she gets into a residency program up here in NYC, we will start doing some more talking about it," JP told OK! at Riazul Tequlia's 3rd Anniversary Party at the Bryant Park Hotel's Cellar Bar in NYC Thursday.
Ashley even Tweeted about Kim's Fairytale wedding special on E!, which raked in a record 10.5 million viewers.
"Can't wait for @KimKardashian wedding tonight! @JP_Rosenbaum and I will be taking notes!!"
The happy couple have already settled in to their NYC pad, and according to J.P. his leading lady will hopefully be living with him full time by the end of November!
So have they acclimated to sharing space?
J.P. says it's been great, except for one thing — all the closet space Ashley (who was praised for her fabulous fashion sense on The Bachelorette) needs.