NEWS
J.R. Martinez Wins Hearts on 'DWTS'; David Arquette Admits "I Escaped Into Alcohol"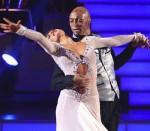 In addition to last night's heartfelt performance on Dancing With the Stars by Rob Kardashian to his late father, contestants didn't hold back when it came to dedications. Ranging from Carrie Ann Inaba tearing up and calling JR Martinez a hero, Chaz Bono's tribute to his late father and David Arquette admitting he "escaped into alcohol," last night was quite a show!
For starters, Chaz Bono opened up about hardships and being different growing up. Dancing the rumba with Lacey Schwimmer as a "tribute to my dad," the proud transgender explained, "If you have a problem with me, that's your problem not mine."
Article continues below advertisement
OK! NEWS: ROB KARDASHIAN DANCES FOR LATE FATHER ON DANCING WITH THE STARS
Carrie Ann stated, "I am so impressed by your real courage." That said, she added, "Tonight wasn't your best performance...it's breaking my heart to say this!" Bruno continued, "There is a very endearing quality about you," before the team received their lowest score of the season, 18.
In addition to family tributes, there were dedications to therapy! Chynna Phillips danced to her own song, "Hold On," and spoke about going to therapy to quit drinking before meeting Billy Baldwin. In fact, she dedicated her rumba with partner Tony Dovolani to the fact that "I have come so far!" The rumba earned Chynna and Tony a solid score of 26.
OK! NEWS: KYM JOHNSON'S DWTS DIARY — CHANNELING DAVID'S ENERGY INTO THE JIVE!
As for Kristin Cavallari, the former Hills starlet spoke about a difficult decision on schools versus pursuing a career in entertainment before she danced to "Crazy in Love." With a total score of 26, Bruno exclaimed, "It's a yes, yes, yes for me!" after Kristin danced the samba with Mark Ballas, while ex-fiance Jay Cutler sat in the audience watching.
Article continues below advertisement
Let's not forget Carson Kressley who won the praise of Bruno who said, "That was insanely brilliant," and Carrie Ann who gushed, "I love you!" for his tango with Anna Trebunskaya. Len Goodman added, "You put the boy in flamboyant," before the team earned 23 points, their best score yet this season.
OK! NEWS: CHAZ BONO BATTLING KNEE INJURY & DANCING WITH THE STARS SURVIVAL AFTER SLUGGISH QUICKSTEP
As for the real tearjerker moments, JR Martinez opened up about his very emotional war injuries as a soldier. He explained, "It didn't make sense to me why I was 19 years old and my life was turned around." The resilient JR got strength from the inspiration of his mother to move forward and "fight." Dancing to the words of Tim McGraw, JR and his partner Karina Smirnoff earned a score of 26 and much acclaim from the judge's table, with Carrie Ann tearing up as she called him a "hero!"
As for other contestants, let's not forget about HLN host Nancy Grace. She spoke about how scared she was when having complications during the birth of her twins and danced the rumba to the first song she ever sang to her girls, "Moon River." Nancy's performance with Tristan MacManus earned the team a score of 21.
OK! NEWS: DANCING WITH THE STARS RESULTS SHOW — DID THE RIGHT COUPLE GO HOME?
Ricki Lake, with her fiancé watching in the wings, and Derek Hough brought out a sensual side during their rumba performance and earned a score of 27 from the judges while soccer star Hope Solo, with a story about losing the 2011 Women's World Cup, got a 24 for her cha cha with Maksim Chmerkovskiy.
Article continues below advertisement
Lastly, David Arquette got emotional and said, "Last year I went through a really hard period. My marriage fell apart and I was really hurt and lost and I escaped into alcohol," but wanted to dance in honor of his daughter Coco Arquette. David won over the judges with a score of 24 after his Rumba with Kym Johnson to "New Child," with Courteney Cox and Coco watching proudly in the crowd.
"I thought you did a great job," Len told David, while Bruno added, "You brought sensitivity, vulnerability."
Tune into ABC tonight to see who gets sent home on Dancing With the Stars!
Reporting by Gena Oppenheim