NEWS
Jude Law: Watson's the Hot One, Not Sherlock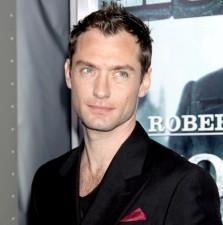 Jude Law's career can be described as a trifecta — Oscar nominated actor, Broadway star and Hollywood heartthrob. He has been receiving attention for his charismatic portrayal as Watson in Sherlock Holmes opposite Robert Downey Jr. While the buzz surrounding the movie is positive, Jude wants to set the record straight on a nickname given to him on set — "Hotson."
The nickname did not originate from the actor's handsome appearance, rather a reference to temperature, the Associated Press reports.
Article continues below advertisement
"Mostly I was only hot because I was wearing those thick tweed suits, massive overcoats and hat and gloves," Jude explained. "I was always the one perspiring on set."
Law said the movie's take on Watson is strongly based on the 19th-century stories by Sir Arthur Conan Doyle, a handsome gentleman who the ladies adore. Director Guy Ritchie gave the character, and the entire film, a 21st-century spin while staying close to the original material.
"There's a reference in one of the books to Watson being very popular with women," Law said. "So that fits."
Jude, 36, said he could not turn down an offer to collaborate with Guy and Robert.
"As soon as I knew Guy and Robert were involved, it was clearly going to be a reevaluation of a very familiar duo dynamic," Jude said. "We were much more interested in creating this equal of two halves, both flawed and both trying to put up with living with each other and both sort of adoring each other but also hating each other."

This year has been very busy for Jude, who finished a run as Hamlet on Broadway. He has also rekindled a relationship with former girlfriend Sienna Miller.
Because of his high-profile Hollywood status, the paparazzi are inevitable, but Jude handles the limelight with a positive attitude.
"You just live accordingly," Law said. "You learn back routes to an awful lot of places. The glamour is going in through the kitchen and over the back fence."