NEWS
Jude & RDJ Take Their Leading Ladies on a Lovely London Date!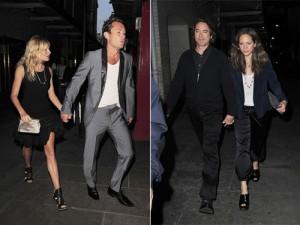 Sherlock and Watson together again! It's no mystery that Jude Law and Robert Downey Jr. are dining together — they are pals from their hit film Sherlock Holmes. The handsome actors and their leading ladies, Sienna Miller and Susan Levin — dined at J. Sheeky restaurant on Sunday night in London. It looked like both couples were in a rush to make their dinner date!
Wonder what the couples conversed about during dinner? Possibly a Sherlock sequel?
MORE ON:
OK Galleries & Photos
Article continues below advertisement