NEWS
Judi Dench on Her Eye Condition: "It Will Not Lead to Blindness"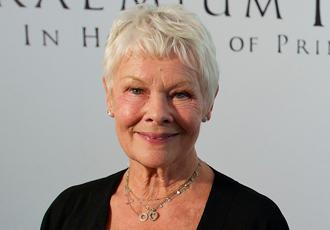 Calm down Judi Dench fans. The Oscar-winning actress recently revealed she is suffering from the eye condition macular degeneration, but came out today to reassure everyone she is not going blind.
OK! GALLERY: KATE WINSLET JOINS JUDI DENCH & HELEN MIRREN AT MADAM TUSSAUDS
In a new interview with the Daily Mirror that was published over the weekend, Judi revealed that her eye condition has caused her to need someone to read scripts to her.
Article continues below advertisement
"The most distressing thing is in a restaurant in the evening I can't see the person I'm having dinner with," the 77-year-old actress explained.
OK! NEWS: JUDI DENCH REVEALS SHE'S SUFFERING FROM MACULAR DEGENERATION
But Judi is speaking out again to further explain her condition and let fans know it's not as bad as it sounds.
"In response to the numerous articles in the media concerning my eye condition - macular degeneration - I do not wish for this to be overblown," Judi said in statement to Reuters.
"This condition is something that thousands and thousands of people all over the world are having to contend with," she added. "It's something that I have learnt to cope with and adapt to — and it will not lead to blindness."
We're very glad to hear that!