NEWS
Judy Greer Has A Message for You...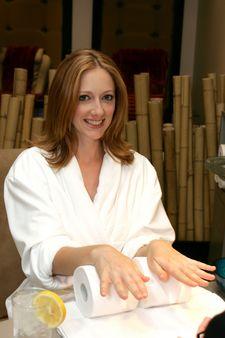 You probably know Judy as Jennifer Garner's backstabbing best friend in 13 Going on in 30 and Katherine Heigl's friend in 27 Dresses. Soon you'll see her playing opposite former Friend Jennifer Aniston in "Traveling," which they filmed together earlier this year and is slated for release next year.
Taking a break from NYC where she's currently shooting an HBO pilot with Kelly Preston, I caught up with Judy while she was at the Cottonelle Comfort Retreat at the St. Regis - Monarch Beach during a "Be Kind To Your Behind" event. Judy's a proud spokeperson for Cottonelle's campaign and we talked about pampering, dancing – and what it's like to be hugged by Jennifer Aniston…
Article continues below advertisement
"Be Kind to Your Behind"?
It's is all about pampering yourself and reminding people to make a pledge to be kind to their behind and to remember that every day you need to give yourself a little pampering.
How are you going to pamper yourself while you're here?
I went to the spa to check it out and I'm getting a manicure today and then tomorrow my boyfriend and I are getting a couples massage and I'll probably get a facial. Today I had lunch on the beach, walked around and had coffee at the coffee shop and scouted out places in the hotel to have a drink tonight, it's an amazing and huge hotel.
What's your favorite way to pamper yourself?
Probably facials, I used to like massages better but now I like to get deep, deep cleaned because I feel like when I'm working they put so much makeup on me so now it's fun to get my face scraped, product and poked and all that.
How often do you get facials?
I try to go once a month
When is Traveling coming out?
The last I heard January but sometimes that stuff changes so I don't know for sure.
Article continues below advertisement
In "Traveling" Aaron Eckhart plays a self-help guru, would you take advice from him?
I would take advice from him and his character. He's pretty cool and pretty together.
What's something about Jen Aniston while working with her that would surprise people?
I don't know if I learned it about her, but something I liked a lot about her is she likes to give a lot of hugs. She'll give everyone a hug every morning and she likes to hold onto your arm when you're talking to her and is really touchy and I like that. I think it's really comforting and it makes me think she's really listening and cares about what you're saying, about what everyone is saying, not just what certain people are saying. She's a really normal person and she looks just as amazing in person as she does in all those pictures. She's so pretty.
You trained in Russian Ballet, would you ever consider going on Dancing with the Stars?
I've only seen a couple of episodes of it but I looove it and I'm so impressed with the things to do because I know what went into my dance background and it was impossible and I was actually never very good at it , so what they're able to accomplish in that amount of time is truly a miracle to me.