NEWS
Julia Roberts Rubs Elbows With Fans Outside 'Regis and Kelly'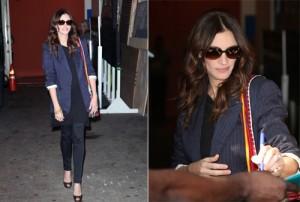 Actress Julia Roberts looked glamorous yet casual outside the set of Live! With Regis and Kelly on Monday in NYC. The A-list actress is in the Big Apple to promote her her newest film Eat Pray Love — based on the novel by Elizabeth Gilbert. Julia kept on her movie-star shades as she signed autographs and mingled with fans before entering the studio!
Article continues below advertisement
The mother of three recently opened up to Elle magazine about embracing one's age and not getting Botox.
"It's unfortunate that we live in such a panicked, dysmorphic society where women don't even give themselves a chance to see what they'll look like as older persons," she said in the candid interview.
"I want to have some idea of what I'll look like before I start cleaning the slates. I want my kids to know when I'm pissed, when I'm happy, and when I'm confounded. Your face tells a story… and it shouldn't be a story about your drive to the doctor's office."