NEWS
Julia Roberts Talks Beauty Secrets, Motherhood and Movies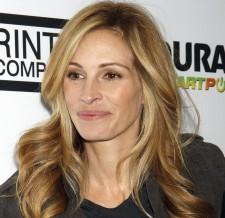 Julia Roberts may be the original pretty woman but the new Lancôme global ambassador still finds areas in her beauty routine that she'd like to improve, "I think I have to stand up straighter and wash my face more," she says.
The new decade has begun with a bang for the 42-year-old: She has the new gig with Lancôme and two upcoming films but what has been Julia's biggest thrill of the year? Sitting next to Sir Paul McCartney at the Golden Globes, reports WWD.
Article continues below advertisement
As soon as the Beatle sat down her phone began buzzing, "It was so embarrassing," she says. "It just started going 'ding, ding.'"
Julia says her friends texted her saying, "OMG I can't believe you're sitting next to Paul McCartney."
Meanwhile, fresh from her Eat, Pray, Love shoot in which she plays writer Elizabeth Gilbert on her soul-searching trip through Italy, India and Indonesia the mom-of-three admits, "It was quite a huge undertaking.
"It was a little bit daunting, dragging three little kids around the world, but well worth it," she says, referring to her three children, the oldest of whom are five-year-old twins.
"It was really like the acting Olympics," continued Roberts. "It's been a long time since I've had a full-time acting job. I am really glad that I made the decision to go off and do that movie. I hope that Liz Gilbert really likes it more than anything," says Julia.
Article continues below advertisement
"She's a really interesting woman. I'm pretty fascinated by her, and I think a lot of people relate to her. So that's the greatest challenge with a book that's so well-known: You want people to see the movie and have that same sense of interest and comfort that they got from reading the book."
She has another movie due out, Valentine's Day, a star-studded ode to Feb. 14 helmed by Pretty Woman director Garry Marshall. "He's just one of my favorite people in the world, and I owe my career to him," she says.
"He took a chance on me when it wasn't the easiest decision to make, and he really stood up for me," she says. "He's a great director. It's insane the people that are in Valentine's Day."
"This movie is just about people loving each other and missing out and getting it right, and it's pretty incredible," she says.
So, can she pick her favorite film out of all her movies? "It is like picking your favorite friend; it's impossible," she says. "There are different reasons to love them.
Article continues below advertisement
"Obviously, Pretty Woman had a profound effect on my life, so I have an incredible affection for that movie. Pelican Brief was another really profound moment for me and my relationship with Alan Pakula is a treasure.
"Erin Brockovich for obvious reasons and then just my own personal reason is so incredible. I met my husband while making The Mexican."
Her next project is taking a hands-on approach to her role with Lancôme, "I get all these things to play with and test and give my opinion about," she says.
"And it's quite exciting without having to invest all of myself in how I look because they did come to me as me, which is a pretty casual mom. But you know, it's nice to up your game a little bit."
Have children changed her beauty regimen? "It kind of comes to a screeching halt," she says. "At a certain point in the future, I'll pick it back up again.
"I think the nice thing about getting older is it forces you in a way to take a greater interest in your beauty regime. And so it's a good moment for me to join forces with people who can help me," she said, laughing.