NEWS
Julianne & Chuck: Behind the Scenes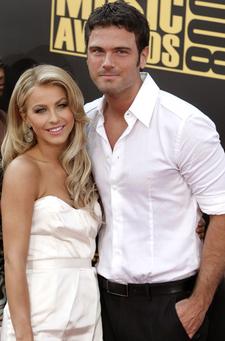 Julianne Hough and Chuck Wicks aren't just a couple for the purposes of Dancing With the Stars, these two country stars are a real-life duo.
And now this adorable twosome are giving their fans a peek behind-the-scenes with a video on MySpace Celebrity as they rehearse and pal around.
"We're having so much fon on the show," says Julianne. "We both tour and we're usually apart from each other."
"It makes us appreciate things more," adds Chuck.
Article continues below advertisement
Check out the video below:
<a href="https://vids.myspace.com/index.cfm?fuseaction=vids.individual&videoid=54717238">Chuck Wicks and Julianne Hough</a><br/><object width="425px" height="360px" ><param name="allowFullScreen" value="true"/><param name="wmode" value="transparent"/><param name="movie" value="http://mediaservices.myspace.com/services/media/embed.aspx/m=54717238,t=1,mt=video,searchID=,primarycolor=,secondarycolor="/><embed src="http://mediaservices.myspace.com/services/media/embed.aspx/m=54717238,t=1,mt=video,searchID=,primarycolor=,secondarycolor=" width="425" height="360" allowFullScreen="true" type="application/x-shockwave-flash" wmode="transparent"/></object>