NEWS
Julianne Hough "Up and Back"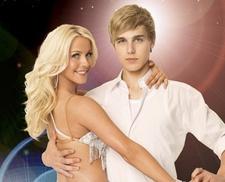 Julianne Hough is one tough lady! After undergoing surgery for endometriosis, which kept her out of competition on Dancing with the Stars, the bombshell announced on her fancast.com blog on Tuesday that she's ready to come back.
"Just so you know, I'm up and back and sick of sitting on the couch," she writes. "I just did my radio phoners and I'm going to see Cody Linley right now. We're going to practice today for about half an hour with Len in his master class."
Article continues below advertisement
Of her surgery, Hough says, "My surgery was good. It was scary. It was supposed to take an hour but took 45 minutes longer. It was a good thing I went in because not only did I have the endometriosis things that needed to be lasered off, but I had a cyst on an ovary and scarred tissue from my appendix that had connected to my right hip. But everything went well and I feel great. I feel like I have more energy than I did a few weeks ago."
Hough says she can't wait to get back to dancing with her DWTS partner, Cody Linley, but admits fellow pro Edyta Sliwinska has done a wonderful job.
"Edyta is doing a great job with him," she says. "I think his charisma and humor is coming off and people are loving him. I was on the floor laughing last night during his solo. I thought one of my stitches was going to pop out!"
Hough adds, "As for dancing, Sunday was the turning point. Last night I was doing some stuff and it felt great. Watch the show tonight--there's going to be a surprise!"