NEWS
Julianne Hough: Apolo & Helio Are My "Brothers"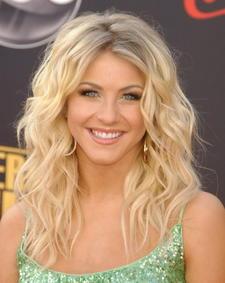 The sixth season of Dancing With the Stars marked a few firsts for Julianne Hough — it was the first time she didn't lead her celebrity partner to the Mirrorball trophy, and it was the first time she wasn't romantically linked to her pupil, Adam Carolla. It was a refreshing change after fighting off romance rumors between her and former partners Apolo Anton Ohno and Helio Castroneves.
"I wouldn't touch them with a 10-foot pole and not because they are dirty, but because they are friends and brothers!" Julianne tells Extra.
Article continues below advertisement
The bubbly blonde called off her engagement to dancer Zack Wilson last year and has since then rumored to be seeing Entourage's Kevin Connolly, but Julianne, who was voted off DWTS along with Adam last week, says there's no one special in her life at the moment.
"I don't date really," she says. "I am so focused on my career and that is my number one priority right now."
And after coming this-close to tying the knot, the dancing queen reveals marriage couldn't be further from her mind.
"I'm 19 years old. I don't even want to think about marriage or anything like that."
Now that her DWTS days are done for the season, Julianne has turned her focus to her country music career. Her single "That Song in My Head" is heating up the charts and she's already shot a music video — which featured a steamy make-out scene — to accompany it.
"I was so scared, I was like, 'I don't know how to act in front of a camera!'" Julianne says.
For more on Julianne, tune in to Extra tonight!