NEWS
Julianne Hough Blogs About Hospital Visit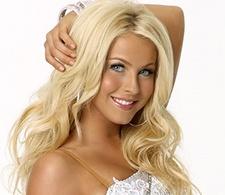 Only hours after being treated at L.A.'s Cedars-Sinai Medical Center for mysterious stomach pains, Dancing With the Stars' Julianne Hough appears to be in a great mood and is already making light of the experience on her blog on Fancast.com.
"Everybody, I'm ok. I'm fine," the DWTS pro and up-and-coming country star blogs.
Julianne admits that, leading up to Tuesday night's live elimination show, she had been feeling ill. "But I'm a trooper. I didn't tell anyone. I didn't want to be dramatic about things."
Article continues below advertisement
The partner of Hannah Montana star Cody Linley says it was during her I Love Lucy-themed dance that she really began to feel worse.
"I don't know if anyone could see my face during the show, but I was trying so hard to put a smile on. I was in so much pain," she confesses. "Afterward, I went backstage and curled up in a ball. That's when everyone said I needed to go to the hospital. I didn't collapse as some reports indicated."
Julianne reassures her fans that the problem was nothing more than a "bad stomach... With stomach problems, you never know what's going on. It could've been
appendicitis."
This was the young star's first trip to an emergency room, and on her blog she jokes, "Before I left the hospital, which was pretty late, I asked the doctor if I could have a note to sleep in. :)"
According to Julianne, she's skipping out on today's rehearsal for the group dance rehearsal. "I'm going to go back to bed and relax and hopefully take it easy today."