NEWS
Julianne Hough to Leave DWTS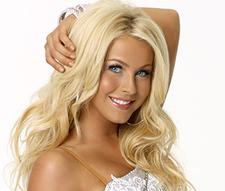 After a season marked by a hospital visit and subsequent surgery for endometriosis, dance pro Julianne Hough has announced that this season was probably her last on Dancing With the Stars in the future.
"I'm not going to be back next season," she confirmed this morning to Ryan Seacrest on his KIIS FM show. "That's final."
However Julianne, who was voted off the show Tuesday along with partner Cody Linley, insists her health issues are not at the center of her decision.
Article continues below advertisement
"It's because I really, really want to focus on the music and… be taken seriously a little bit," she says, "and I think it's hard to be on Dancing With the Stars and be singing and kind of get that confusion, and so I'm really going to focus on the music."
Julianne is a successful country musician in addition to her dancing talents, and it's the music that will keep her going after she leaves what Ryan calls, "the mother ship" of the popular reality show.
"The music is where I want to be so you got to do what you got to do to get there," she reveals.
For more on Julianne's decision, tune in to E! News at 7pm and 11pm, ET/PT.