NEWS
Julianne Hough Talks Ryan Seacrest, Video Ban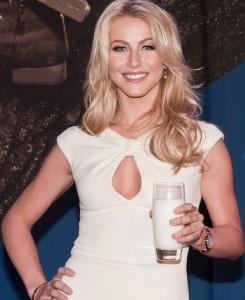 When Julianne Hough debuts her "Got Milk?" ad during a Power of 9 event held at Hearst Tower in NYC, it's all about boyfriend Ryan Seacrest – who isn't even there.
As guests dressed in white enjoy mini-makeovers and nibble on chocolate chip cookies, mini Crumbs cupcakes and milk smoothies, the Dancing With The Stars beauty-turned-country singer, 22, fields a proposal when Giuliana Rancic gets down on one knee. "Are you getting remarried?" she cracks. She flashes both ring-free hands as if to say "see?" and offers up "he's a good man" when asked about life with the American Idol host, 36.
Article continues below advertisement
Ah, Ryan Seacrest.
What does he think of her "Got Milk?" ad?
"He loves it," she tells me. "He thought it was beautifully done."
Although kind-hearted Julianne brushes off what grooming tips he's taught her, she's still got her sense of humor. (I fondly remember the joke she gleefully told me in 2009 on a tour bus in Nashville: "How do you wake Lady Gaga up in the morning? You poke her face. Get it?") When holding up a glass of milk, she teases, "Got Milk, Mario Lopez? I know the Baby Mama does."
Ha!
Getting the perfect shot of a "milk moustache" was no easy task.
"I had to do it over and over and over again," she says. "It tasted great! But it was a lot of making sure it was all perfect and dabbing and blotting and wiping. I remember I got it right, perfectly, one time, and I was like 'I did it! I did it! This is amazing!'"
Modeling for "Got Milk?" is one of many goals Julianne has checked off since shooting to fame on DWTS in 2007. She thought partner Apolo Ohno's ad was the "coolest thing ever," and hopes to offer the same chance to nine winners of the Power of 9 campaign, which gives girls the chance to star in the next "Got Milk?" ad.
Article continues below advertisement
"I was given a lot of opportunity when I was young," she says. "I had to work my butt off, but to give people opportunities that they feel empowered and encouraged to keep going."
The freedom to grow is something she's pleased her brother Derek Hough has decided to pursue now that he's taking off a season from DWTS. (He'll return in the fall.)
"I'm so happy for him. He's got so many other talents he wants to explore, and get better at. I think that's both of us. We were doing this great thing on the show and dancing, but we want to expand our horizons and do better and learn more in other forms, too. I'm excited. I think people are going to be surprised at all his capabilities. I'm so proud because I know everything that he has to offer."
Hm, will we see Julianne on the dance floor of the hit reality show again?
"You never know. It depends what's happening in my life at the time. I love the show. The show's given me all these opportunities."
Until then, she's concentrating on her other aspects of her career – both her sophomore album Wildfire and remake of Footloose will be out this year.
Despite reports that CMT banned her video Is That So Wrong, Julianne admits it's not entirely true.
Article continues below advertisement
"Someone haggled me, and so I commented back," she tells me. "It was this long story. But it was onstage and I was joking around. Instead of saying 'CMT and the label … they have a little lawsuit thing going on' laughs, instead I said 'CMT banned it.' I didn't even think about it. But yeah, they weren't playing it. It's all true – not that they banned it, but they weren't playing it. I understand the reasons why. It was a comment that happened with one person in the audience, and it blew up. It was crazy. They didn't ban it, but they're not playing it because of issues with the label."
But when it comes to other misconceptions, she can't think of any.
Here's my pic with Julianne:
The Power of 9 campaign gives young girls the chance to star in the next "Got Milk?" ad.