NEWS
Julianne Hough Tight-Lipped on Footloose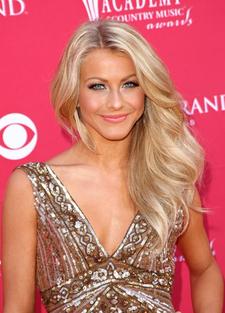 Julianne Hough is not only a country singer, she's a dancer, so it's no surprise she can very deftly side-step any questions about whether or not she'll be in the remake of classic Footloose. While Julianne remained pretty tight-lipped at the CMA Music Festival, she did throw OK! a few hints.
"So I can clarify that I can't say anything?" she told OK! when asked if she'll be playing Ariel opposite Chace Crawford's Ren. "I mean, I think it's out there that I did try out and everything. It's just really cool to have the opportunity. I don't know what's going to happen. I feel blessed that I had the opportunity."
Article continues below advertisement
Julianne's already got an inside track on becoming reacher's daughter Ariel – not only is she a fan of the original, starring Kevin Bacon and Lori Singer, she's played her before.
"It's awesome. It's so good. I was a big fan of it from the beginning, even before I'd heard about this," she tells OK! of the original. "It's funny – my brother Derek Hough played Ren on the West End in London at the same time as I played Ariel in high school in Park City, so it's kind of funny. We love it."
Sounds like she's a shoo-in!
Reporting by Valerie Nome