NEWS
Julianne Hough Won't Let Chuck Wicks Slide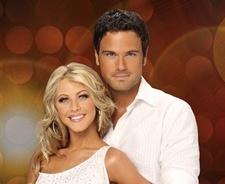 There have been a handful of romances formed on Dancing With the Stars, but the start of this season brought the first actual couple to the stage together in the form of country singer Chuck Wicks and two-time DWTS pro champ (and rising country star in her own right) Julianne Hough.
And while the real-life lovebirds have managed to make it through this injury-plagued season without busting a knee or busting up their relationship, they admit to OK! it's not always easy.
Article continues below advertisement
"I get frustrated because I want to live up to her standards," Chuck confessed to OK! after Monday night's performance show, where they earned a respectable 23 for their Viennese waltz. "She's obviously won the show twice and she's had her partners in the past who have been probably better dancers than me. I want to make her I think I'm one of those dancers. She's there to kick a boot in my butt and get me rocking."
And Julianne even admitted that there was a bit of tension in the rehearsal studio this week. "I got upset," she told OK!. "I wasn't letting him slide."
Another source of the tension could have been the lead-up to Sunday night's Academy of Country Music Awards, where Julianne brought home the Best New Artist award.
By Carole Glines