NEWS
Julianne Moore Helps Reinvent Talbots in Gorgeous Spring Campaign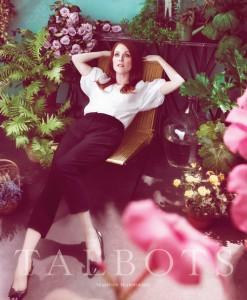 Big screen siren Julianne Moore is known for her acting prowess and is one of Hollywood's most popular leading ladies. The A-lister has also lent her renowned presence to a number of ad campaigns (recall her sexy Bulgari ads where she posed provocatively only covered in accessories). Her latest endeavor — the fresh face for Talbots Spring 2011 collection, and she certainly has launched the brand to new heights!
Article continues below advertisement
The female clothing company — established in 1947 — has taken on a "tradition transformed" platform, and Julianne was the perfect person to help them with the task.
"I love Julianne because she has this beautiful soulful quality about her that added a lot of soul to the brand," Talbots Chief Creative Officer Michael Smaldone told OK! exclusively. "I think she's just a classic. I think she is very down to earth and feminine. She's not outrageous in her style. She is very approachable — I love what she says as a woman."
'We're going through a massive reimagining of the brand," Smaldone explained to OK!. "Our new platform stands for strong American classics, but we want to put a very individual spin on it and Julianne was just one person who represents one facet of a woman's lifestyle."
And as far as working with Julianne at the photo shoot for the campaign, Smaldone told OK! it "wasn't even like work."
Article continues below advertisement
"She was amazing to work with and genuinely excited," he shared. "Running around, taking my hand, asking if I liked the pictures. She got excited when she put the clothes on. She was just smiling from ear-to-ear for two days."
The four-time Oscar nominee also shared her thoughts about working with the iconic brand.
OK! GALLERY: THE CELEBS ARE MORE THEN "ALL RIGHT" AT THE NYC SCREENING
"I think Talbots has done an amazing job of reimagining their collection and their label," Julianne said. "Talbots is a brand that I think we all grew up with. We are all familiar with. It's a really great and classic brand of clothes. They've kinda taken it and re-invented it. It's not the old Talbots that were all used to."
Another motto of the campaign — "This is not your grandmother's Talbots."
Julianne models the new Spring line in a gorgeous greenhouse setting which is described as "lush, beautiful and very feminine."
"We wanted this contrast of this very strong, confident modern woman in the midst of all this tradition," Smaldone explained.
Catch the first print adds of Julianne for Talbots in March issue's of O magazine and Glamour.