NEWS
Julianne Moore Operates With 'Savage Grace'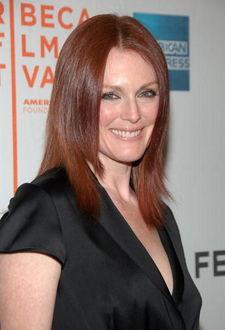 Mariah Carey saunters out moments before arrivals for the Savage Grace premiere begin at the Tribeca Film Festival. She's holding a pink t-shirt in one well-manicured hand, and flanked by a group of three bodyguards.
Now Julianne Moore steps up, looking slimmer than I've ever seen before. She nearly has a wardrobe malfunction with her plunging black Yves St. Laurent dress, and her rep cautions her to be careful. We're told she's only talking about the movie, so she dances around everything else. She clutches the deep collar as she strides up to reporters. "Hi ladies!" she says, addressing the red carpet regulars.
Article continues below advertisement
What does she love about having a film festival in NYC?
"It's close to my home," she says. "It's easy to get here."
How does she stay in shape?
"On location, you have very little time to do anything," the actress, 47, says. "Mostly you're at work. I do most of my exercising when I'm not working."
She laughs it off when asked for diet tips, and turns the question about secrets to a happy marriage (she's married in the film) on me. "Are you married?" she asks. Um … no.
Director Tom Kalin calls Julianne "incredibly tender and lovely."
"She has balance as a person," he tells me. "It's great to see her pleasure in her profession but also in her personal life. She has a great marriage and a special relationship with her children." In fact, he says Julianne took kids Caleb, 10, and Liv, 6, on the ferris wheel and merry-go-round during their time on set in Barcelona.
Savage Grace is the true story of the Barbara Daly Baekeland murder case.
The drama hits theaters May 30.
Pick up the OK! on newsstands now for more coverage of the Tribeca Film Festival.