NEWS
Julianne Wants a Hough vs. Hough Final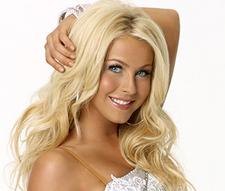 After complaining of stomach pains last week, Julianne Hough has revealed she'll be undergoing surgery. Initially it was announced that the Dancing With the Stars pro would be having an appendectomy, but on a blog on FanCast.com, she opens up to fans to let them know she's also been diagnosed with endometriosis.
"It turned out I ruptured a cyst that was on my ovary," she writes. "I didn't know but I have endometriosis. I've apparently had it for a long time because I've had this pain for about the last five years. It hasn't been as bad. Up till last week, I let it go and I was always too busy to get it checked out. But because it happened when I was on set, they made me go to the doctor."
Article continues below advertisement
The surgery will also clean out the ruptured cysts, in addition to removing her appendix, just to be safe. Julianne also confesses that endometriosis runs in her family – her mother and sister both had it – and urges other women to get checked out.
"I want to be a good role model. I want to be honest," the dancing star writes. "Maybe some girl out there won't wait too long like I did. I'm just glad I'm taking care of it now because I want to have babies some day. I don't want to jeopardize my health."
As for the competition, Julianne agrees with a fan who wants the DWTS final to come down to a faceoff with her and Cody Linley dancing against Brooke Burke and her brother, Derek Hough.
"I hope it happens!," she writes, although she won't be dancing for another two weeks. "Brooke has been a frontrunner from the beginning, and I think Cody has shown what this show is about. We'll see."