NEWS
Julianne's Painful Struggle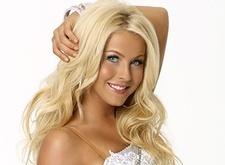 Less than a week after undergoing surgery following her collapse backstage at Dancing with the Stars, Julianne Hough is opening up to E! News about the medical condition she now says she's battled "for a while."
Hough, 20, revealed to Samantha Harris that she suffers from Endometriosis, a condition affecting the lining of a woman's uterus. The always smiling Julianne says she's put up with abdominal pains for about five years, but only recently felt that it had gotten serious.
Article continues below advertisement
"I didn't want this whole drama with, like, the cameras filming you," Hough said. "I kept going through the show and I was just kind of quiet, and through the show it just kept getting worse and worse."
On Oct. 21, Hough was rushed to the hospital following an elimination show to which she explains: "Right after the show I came back and just curled up in a ball, and I was just sobbing...And there were cameras and I'm like, 'I love you guys, but I did not break my foot.' I was like, 'This is something personal, do not film this.'"
Julianne says she told doctors initially that she wanted to wait on surgery and finish out the season of DWTS, but doctors recommended that she have the procedure done now--a decision she is happy she made.
"It's actually a really good thing I did," she says. Hough's boyfriend, country singer Chuck Wicks, has been there for her the entire time, offering his support. "When somebody can take care of you and really wants to care of you, instead of someone taking care of you because they have to, you can tell they're a keeper."
As for her future on DWTS, Hough says she hopes to be strutting her stuff on the dance floor very soon.
"I want to be back this week, but it may be another week just because we don't want to anything to rupture or the stitches to fly out," she says.
Despite her initial anxiety about coming forward with her experience, Hough says she did it to help other women."I've always been honest, and I think it can help other girls who ignore pain," she says. "You don't have to ignore pain."