NEWS
Julie Andrews Was Forced to Kiss Stepdad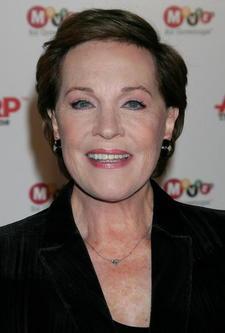 In an no-holds-barred memoir, Dame Julie Andrews revealed shocking details of her past, which included a kiss and molestation by her stepfather.
The Oscar-winning star writes in her autobiography Home: A Memoir of My Early Years that Ted Andrews, whom she called "Pop," forced himself on her, causing her to sleep with a bolt on her bedroom door to hide from him.
"Suddenly he said, 'I really must teach you how to kiss properly' and kissed me full on the lips. It was a deep, moist kiss - a very unpleasant experience," Julie writes.
Article continues below advertisement
"Ten minutes later he came back in. I was burrowed beneath the covers, facing the wall. He leaned over me and tried to kiss me again. I rolled nearer the wall and mumbled, 'I'm really sleepy. Goodnight, now!'"
That wasn't the only traumatizing she experienced with Ted, the man who first noticed Julie's impeccable voice. He also once tried to "cuddle" with his stepdaughter, an incident that left her feeling "trapped and claustrophobic."
"Very reluctantly I climbed into bed and lay with my back to him. 'I'll show you how I cuddle with Mummy,' he said. 'Give me your feet,'" Julie recalls. "He placed them between his legs, and I was acutely aware of his heaviness on my tiny limbs. I felt trapped and claustrophobic.
"Eventually, summoning my courage, I claimed that I was too hot and that I was going back to my own bed. To my relief and surprise he let me go."
Julie, now 72, drops another bombshell in the tome — she was the product of an illicit affair and didn't learn of her true parentage until she was 14 years old.
"That simply knocked me sideways," says Julie, who grew up believing Ted Wells was her father.
After her mother, Barbara divorced Ted Wells, she wed Ted Andrews and Julie was given his last name.