NEWS
Julie Benz Enjoys "Girls Night" at First Ever L.A. Matadors World Series of Boxing Match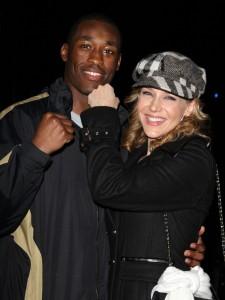 Although Julie Benz plays a superhero on ABC's new show No Ordinary Family, when it comes to real life fighting the actress preferred to watch L.A.'s first ever boxing team, the Matadors, ringside on Sunday night as they fought the Mexico City Guerreros in a World Series of Boxing match.
"I had a blast. I got a couple of my girlfriends to come down and watch some great athleticism and be able to sit ringside up close," the former Dexter starlet told OK! exclusively of the first match at Nokia Center LA Live!, "It was really great to see these amateurs fight pro-style, with no headgear. It was a fun girls night!"
Article continues below advertisement
OK! NEWS: LADIES LUNCH FOR LUPUS IN BEVERLY HILLS
Right up close in the action, Julie admits she does feel badly sometimes when the fighting gets rough, but says it's all in good fun.
"There is a part where you feel bad, especially when you see a guy get knocked out, but you are rooting for your team and they stop the fight before anyone gets seriously injured."
Being used to fight scenes on her hit show, Julie still thinks if she was ever faced by the Matadors in the ring, she wouldn't stand a chance!
"I would probably just run away from them! The 38-year-old gushed to OK!.
But, how about a cameo from L.A.'s first ever boxing team on No Ordinary Family?
"I can beat 'em up!," Julie joked, "It'd be awesome. But, I would have to beat them up and win."
The L.A. Matadors, whose Chief Marketing Officer Rich Orosco is Julie's boyfriend, went 5 for 5 against the Mexico City Guerreros in their first World Series of Boxing match.
Catch the team's next match on Sunday Dec. 12 at Nokia Theater.