NEWS
Julie Benz Wants to Work the Stripper Pole on Desperate Housewives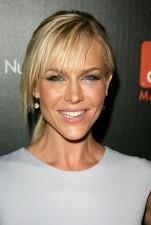 After the traumatic death of her character Rita on Dexter, Julie Benz sits down with OK! to talk about her new role as a stripper on Desperate Housewives and reveals that she has always wanted to learn how to work the pole.
"I was a little disappointed because I really wanted to get on the pole. It's a fun fantasy to be able to do it," Julie reveals to OK!, "It's great because I'm in my thirties and to be playing a stripper is really flattering for me!"
Article continues below advertisement
And although Julie didn't get a chance to show off her chops on the pole during filming, she plans on taking a pole dancing class when she has the time.
"I have a lot of friends that do it and I think that it's a great way to exercise and express your sexuality. Once I have more time, I would love to do it," Julie gushes to OK! while working on the Wisteria Lane.
While cast mate Teri Hatcher has been known to enjoy the S-Factor workout to stay svelte, Julie reveals how she stays fit on set.
"I am stricter on set because I don't want to have the sugar crashes so I stick to healthy choices like hard-boiled eggs, apples and peanut butter, and vegetables and hummus. We work fifteen hour days…" Julie admits to OK! although sometimes cast mates just need an energy boost.
"Everyone eats everything. I have even seen some women eating doughnuts. Sometimes you need the energy!"
Regardless of keeping up with her eating routine, Julie has much to focus on working with great actresses such as Eva Longoria, Teri Hatcher, and Marcia Cross as she tells OK!, "They have all been doing this for six years, so I have to be a little more focused, but all of the women are so wonderful to work with. It's really the first female dominated role I have been a part of in a long time."
And even though Julie can't give away too much about the Desperate Housewive's plot line, she did tell OK!, "I do have a love interest on the show. MJ develops a crush on me. He is so cute!"
Catch Julie on Desperate Housewives starting in February.