NEWS
Julie Benz Won't Reappear on 'Dexter'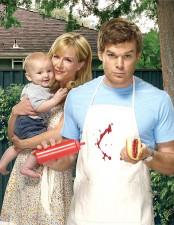 Although Julie Benz has found a new home with the ladies of Wisteria Lane on Desperate Housewives, she exclusively tells OK! that not only was she shocked by her deadly departure from award-winning Showtime hit Dexter, but that, for the sake of the show and its fans, she won't be joining Dexter's dead dad as another nagging voice in his head.
"My only fear would be that it would cheapen the impact and I don't know if it makes sense for her," Julie reveals of her character Rita, who was found dead in her tub at the end of last season, making a comeback.
Article continues below advertisement
However, Julie does admit to OK! that, "if it makes sense and doesn't cheapen the impact of the finale," she would come back on Dexter, "for the fans, but it would have to be in a powerful way."
Seeing as how Michael C. Hall's serial-killer-stalking serial killer title character regularly chatters away with his dead father on the series, the possibility of Julie coming back for the finale even as a ghost isn't beyond the realm of believability.
But Julie does admit to being shocked that her character, who played Michael's wife on Dexter, was killed off of the show.
"That was my family for five years. It was a little shock. I was not expecting it and I wasn't prepared, but that's the nature of being a supporting player on the show. It wasn't my choice," Julie discusses her departure with OK!, "I wanted to be there forever, but my job was to help facilitate the story line. Its aggressive story telling and it shows creativity and passion. I'm interested to see how it plays out, but it became one of the most talked about moments in television."
Article continues below advertisement
In the meantime, Julie opened up to OK! that she still keeps in touch with her Dexter co-stars and was thrilled, "To be able to be there being my final year on the show and see Michael C. Hall win meant something to me," at the Golden Globes on Sunday.
Julie even admires Michael, who has been fighting cancer, along with his wife Jennifer Carpenter, also co-starring on Dexter, for getting through such a rough time.
"They have a bond that is so deep. They can lean on each other for support and that's the strength of their love. Its something we can all admire and learn from. I found out when everyone else did and I was shocked but when I talked to Michael, he is doing great. He is already in remission," Julie explains to OK!