NEWS
Julie Benz's Dogs Help Heal Heartbreak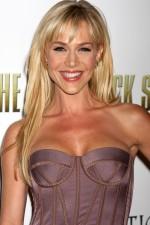 When Desperate Housewives star Julie Benz split from hubby John Kassir in 2007 after nearly a decade of marriage, she dealt with the loss by opening her new home to pets.
"It was very painful and difficult," the actress, 37, tells me. "We managed to keep it as amicable as possible. That was a big thing for both of us. We were together a long time. I got a dog – I got Bamboo laughs. That helped a lot. That's why he's so spoiled."
Article continues below advertisement
She continues, "That, and I focus on work. I was lucky that during a difficult time in my life, I had the ability to have a massive amount of work and that really helped. And I leaned on friends. My friends were really there for me and helped me."
Considering the life of an actress involves frequent travel, the former Dexter star added another dog to her household.
"My dog Bamboo actually does not fly very well, which is one of the reasons I got another dog, because I need to have a dog with me on location," she says. "Now when I travel, Bamboo stays at home with my adorable publicist Patrick, and I usually take Sugar. Sugar flies on the plane with me. I have this really amazing case that you can put your computer in as well. The dog fits right inside. It's on wheels; it's awesome. She konks out."
It wasn't easy introducing the two pooches.
"Bamboo is a Morkie, and is a very unique dog," she tells me. "Everybody loves Bamboo. He has this really great personality. He looks like a cross between David Duchovny and Sherlock Holmes laughs. He is so cute."
She continues, "Sugar is a puppy that is Havanese — from Cuba — so Sugar definitely has a Cubano personality," she says. "She's very stubborn and very feisty, and she has to have things her way. Even though she weighs 10 pounds, they get into major battles. She tries to be the leader of the pack, and I have to remind her that I'm actually the leader of the pack. It's hard for me. She's only 10 pounds, but she's so stubborn."
Article continues below advertisement
It was so challenging when Sugar arrived that Julie hired a dog trainer.
"When I brought Sugar into the picture, Bamboo's training started to go out the window, and I was having a really difficult time," she explains. "I felt bad because Bamboo had to adjust from being an only dog to having this cute little puppy around. I wasn't cut out to deal with it myself, so I hired a dog trainer, and she taught me how to take control. I've left them at her house and she whips them into shape. I'm a terrible disciplinarian; I'm awful."
These days, Bamboo and Sugar aren't lacking for love and attention.
"I have about eight dog beds," she says. "I have dog toys everywhere. I feel like my house is a giant doghouse, and I'm lucky to live there."
What do they mean to her?
"Oh, God, they're my babies," she says. "They love you no matter what. You can have a bad day, you can lose all your money… you can come home from the worst day of your life, and the dogs will be the only ones to talk to you. To me, it's pure, unconditional love. I find it very relaxing, too. I always have to have dogs. I travel with them as well when I go on vacation."
Article continues below advertisement
She continues, "They'll come to set and hang out in my trailer. They're an important part of my life; they're a stress reliever. When my dogs are in my trailer, so many people come to visit them that you just think 'Wow, this is a great break in the middle of the day just to pet your dog.' They're too spoiled."
Pick up the OK! on newsstands now to get Julie's What I Ate Today feature. The cover line is "Dancing With the Stars Showdown." And catch Julie on Desperate Housewives, which airs Sundays at 9 p.m.
Looking to add a precious pet to your home? Visit Petfinder.com. Not only are dogs nice, but cats make great choices, too.