NEWS
Julie Bowen's Sons are Not 'Complex' Yet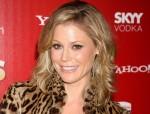 Although Julie Bowen's NSFW breastfeeding photo has created a scandal since she showed it off on Lopez Tonight this week, the actress insists her family is both modern and traditional.
"My extended family is traditional in that we don't have a lot of remarriage," the Modern Family star, 40, tells me during the Peabody Awards held in NYC this week. "We do have some gay members. The point about the family being modern is that the new traditional family is the modern family. There is no such thing as a traditional family. When you shake a family tree, you never know what's going to fall out."
MORE ON:
Red Carpet Confidential
Article continues below advertisement
Thanks to hubby Scott Phillips, Julie is having a blast momming it up to three sons -- Oliver, 3, and twins John and Gus, 1.
"There's a lot of male energy, and it's very fun because they're very physical," "They are not complex yet. They may develop complex personalities, but right now they want to throw things, they want to bark, they want to throw balls, they want to drive cars and trucks. It's simple because it's about having high-energy, and I can actually do that part. When it gets complicated later, I don't know what I'm going to do."
What's the best part?
She laughs, "When they all go to sleep at night."
Modern Family airs Wednesdays at 9/8C on ABC.