NEWS
OK! Exclusive: Chrisley Knows Best's Julie On Being A Cancer Survivor For Breast Cancer Awareness Month: 'It Can Truly Happen To Anybody'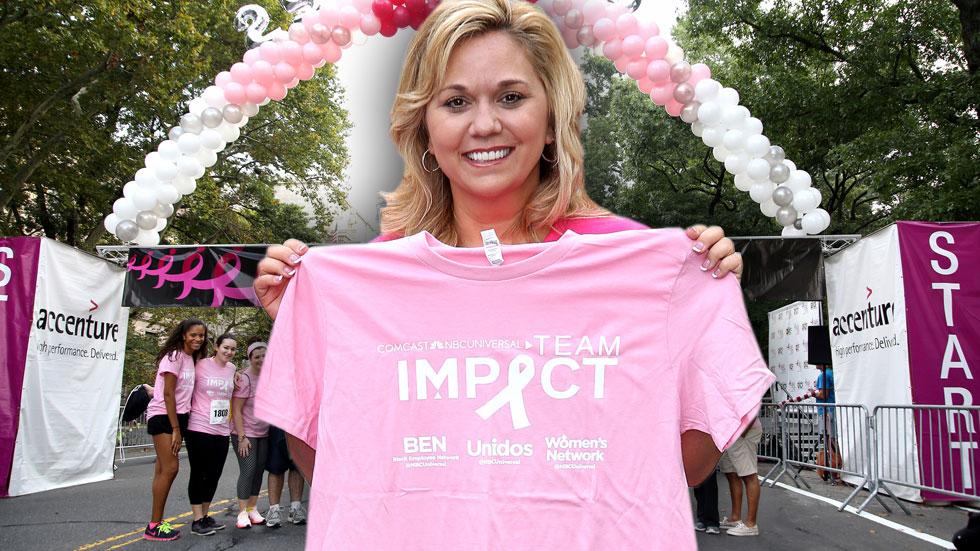 Todd Chrisley knows best, and while fans of the hit USA show know Todd can be a bit bossy to his family, his wife Julie Chrisley is glad she took his advice a few years ago.
In 2012, Julie was diagnosed with breast cancer and, thanks to Todd persuading her to get a mammogram, is now three years cancer-free after undergoing a double mastectomy.
Since her diagnosis, Julie has involved herself in numerous organizations supporting the cause including the Susan G. Komen Race for the Cure, but is using her celebrity to create awareness for early breast cancer screenings, especially since it affects 1 in 8 U.S women.
Article continues below advertisement
Chrisley: It is truly been a blessing over these past three years. My breast cancer was caught very early so I did have a double mastectomy in 2012, and I am cancer-free. Over the whole process yes, there's been some hard times but I'm blessed. Savannah Chrisley and I just walked in the Susan G. Komen Race for the Cure a couple of weeks ago and it was a great experience.
OK!: How was it doing the Susan G. Komen race for a second time?
Article continues below advertisement
Chrisley: It was just as special as it was the first. I think being there, having that many people for one cause is unbelievable to me.
WATCH: Todd Chrisley And Family Discuss His Plastic Surgery For 47th Birthday
OK!: How glad were you that you took Todd's advice to get a mammogram?
Chrisley: He was like you have to go have a mammogram. And I'm like, "I'm not even forty yet." At the time I wasn't. I was like, "I'm good, I don't have any family history." And that has been what I want people to get from my story, that I have no family history, I had no reason to ever even think about it, and went for a mammogram and had breast cancer. So it can truly happen to anybody.
OK!: What is some advice you'd give to others in this situation or with loved ones who are battling cancer?
Chrisley: I had and continue to have a huge support system, and I think that is so so important. I think it's also important to understand that women that go through breast cancer and come out the other side there's so much more to it. I think people think, "Oh my gosh, she's gone through treatment, she's good," which is a blessing because so many don't get that opportunity. But there's so much more to it and I have so many friends that were diagnosed around the same time I was and are still going through things. Whether it's reconstruction, or surgery, or follow-up, there's more to it. I just want people to understand, don't forget about that person that went through it, because you never know what people are still going through.
Article continues below advertisement
WATCH: Chrisley Knows Best's Todd & Julie Reveal Which Kid Is Their Favorite!
OK!: How are you working to raise awareness for Breast Cancer Awareness month?
Chrisley: We've got a few events coming up in October, that's Breast Cancer Awareness month. Just me getting out there telling my story, encouraging all women to not put off that mammogram, go ahead and do it. Whether it's uncomfortable, or they're dreading it, just do it. That's kind of been what I feel my voice is right now.
OK!: Last season on the show, we saw you started food blogging. How is that going?
Chrisley: It's going good. We're still navigating, getting our way through it. I am the least social media savvy in our family. But I'm getting there; they're going to pull me through.
WATCH: Todd Chrisley Is Not A Fan Of Julie's Cooking—And Isn't Afraid To Show It
OK!: You were testing out new recipes and Todd was not impressed. Does Todd like food now?
Article continues below advertisement
Chrisley: Todd likes the food that I've always made and he doesn't want me to ever change it. He doesn't want to try anything new, he likes it the way his mother made it, and now the way that I make it. So I have to be very careful with new recipes and I have to be very careful with how I introduce those to him. So yeah, he's pretty good most of the time.
OK!: Savannah going off to college must not have been easy for him then.
Chrisley: It has not. Having both Chase Chrisley and Savannah go to college the same time has been just crazy for him. I think he thought, "Okay Chase is going to college this August, we'll have a whole 'nother year with Savannah" and then when she was able to graduate early and they both left at the same time, I'm like "I don't know if I'm going to get through it and I don't know if I can get him through it." So it's been a huge, huge adjustment for us.
Article continues below advertisement
WATCH: Todd Teaches College-Bound Savannah How To Budget Herself
OK!: The show comes back in November, what could we look forward to seeing?
Chrisley: These next six episodes are going to be really really special to me because its our families first time oversees. We're all in London together. It was a great time, it was funny, it was just a once-in-a-lifetime experience. And to be able to have the kids all together, kind of the one last time, was great. And we also got to celebrate Chase and Savannah's graduation, which was very emotional. But it was a good time because it's the natural progression of life. And it's them making their way, growing up, going to college, everything we have always envisioned as parents that we wanted for our kids.
Chrisley Knows Best returns Tuesday, November 10th at 10/9c on USA Network.