NEWS
Just Another Star-Packed New York Night!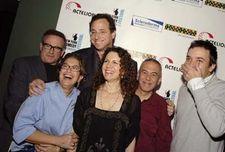 The Scleroderma Research Foundation event in New York City was star packed and everyone from Robin Williams to Jimmy Fallon stopped by to support Bob Saget and the cause. Jimmy Fallon told OK! all about his future wedding plans, "Very very excited for it. I'm still thinking of whether we're going to make a big one or a small one; what we're going to do is still up in the air. But my fiancée, which is a cool word to say for a little while even though I'm not allowed to say fiancée, is very excited about it. We're looking forward to it!"
Article continues below advertisement
Meanwhile Gilbert Gottfried, who we last saw at the Friars Club Roast, updated OK! on what he's been doing these days, "I did an episode of Hannah Montana, but I don't know when that'll air. I did a DVD of Jack and the Beanstalk, believe it or not. And I've got my Dirty Joke DVD out." And we wondered if any of the dirty jokes ended up on Hanna Montana, "Yes, yes I've used total filth there — it'll be the X-rated Hannah Montana."
And while Gilbert has been busy, Robin Williams has been just the opposite. He said, "I'm doing nothing. Nothing at all. I'm doing Obama on Ice — part of the whole campaign a year early, you know, there's never enough foreplay in politics!"
And finally Dana Delany, who plays the newest housewife on the Desperate Housewives block had nothing but good things to say about her time on the show. "They've been great. The good thing was I knew all of them beforehand just from over the years. It's kind of like family. It's fun. I'm having a ball!"