NEWS
Justin Bieber Admits to 'GQ': "I've Had a Beer" and Defends Kim Kardashian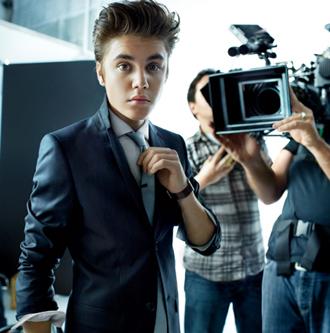 GQ got the thrilling assignment of stepping inside the world of Justin Bieber for the June issue, and the writer realized what a sheltered yet flashy life the 18-year-old truly lives. For starters, he receives a swank Mercedes-Benz Sprinter van just for kicks during the interview.
OK! NEWS: JUSTIN BIEBER ANNOUNCES SECOND BOOK CALLED JUSTIN BIEBER GETTING STARTED
After commenting that the Biebs looks to be about "five-feet-four and 100 pounds," the writer plays a rather awkward game of pool with the singer. During this game, Justin tells him he doesn't sweat the fact he hasn't gotten much formal schooling and won't give any details about the multi-million dollar mansion he just purchased.
Article continues below advertisement
He does, however, hint toward a more worldly lifestyle than any of his teen fans may assume.
"For me, it's just like, I like to be in control of myself. I mean, I've had a beer, like, before.... But I never get out of control," he said. "I mean, I keep my guard up a lot, because you know, you can't trust anyone in this business," Bieber says. "That's what's sad. You can't trust anybody. I learned the hard way."
Meanwhile, he continually refers to people in his entourage as "b**ches" and refers to himself as a "swaggy adult."
OK! NEWS: JENNIFER HUDSON ADMITS A LOVE OF JUSTIN BIEBER: I DO HAVE BIEBER FEVER!
Wondering if this bravado might mask inner insecurities, the writer asks a person in Justin's camp if Justin ever gets his feelings hurt when discussing or recording his music.
"He hurts feelings," the music producer replied.
Speaking of hurt feelings, he showed a spark of empathy when a guy in his crew makes fun of Kim Kardashian.
"You guys are so mean, bro.... People say she doesn't do anything; she actually does do stuff. She works hard."
We're sure Kim will blush when she reads this.