NEWS
Justin Bieber Birthday Theme Song: Usher Pays Special Tribute to His "Lil Bro"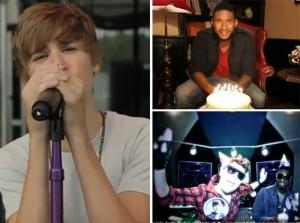 If you haven't heard already, besides March 1 marking National Pancake Day, it is also the day the world was blessed with Justin Bieber! Today, the Biebs turns 17 and everyone is a flutter with Bieber Fever! In honor of his birthday, his big brother Usher, dedicated a special song to the star!
"Happy Birthday Lil Bro...JB I love you and hope you are enjoyin' your BIG 17th." Usher Tweeted.
He also Tweeted a link to the special music video, birthday theme song for JB, writing, "Fight cancer & donate $10 to ACS in honor of JB's bday: text BDAY to 20222"
Article continues below advertisement
Justin, being the great humanitarian that he is, is always involved in some kind of charity, asking Beliebers to also donate to Charity: Water for his 17th birthday in order to raise $17,000 for clean water in developing nations.
In response to his birthday song, JB Tweeted, "haha. this is the theme song 2day. check out @UsherRaymondIV gift mashup! Crazy. "Shawty...It's you bday" "
The last year has been a very exciting time for JB, from his world tour to his blockbuster Never Say Never to his relationship with Selena Gomez, which they just went public with Sunday during the Ocsars!
We hope Selena follows Usher's lead and sends a birthday Tweet to her man!
Catch the "Justin Bieber and Usher Happy Birthday Song Mysto & Pizzi vs. Agent Jackson remix" below! Also, be sure to support The Biebs cause and join in the movement of less cancer and more birthdays with the American Cancer Society.