NEWS
Justin Bieber Blows Out the Power Grid During Show at Apollo Theater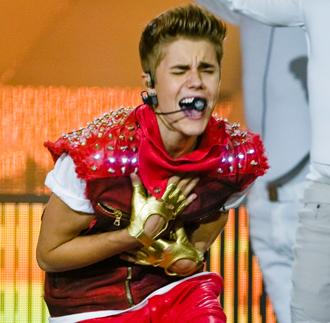 Article continues below advertisement
Indeed, songs like "My World" were just too much for a theater's sound system that once supported Michael Jackson, Paul McCartney, Stevie Wonder and Mariah Carey.
"Literally, the boy blew up the Apollo — he heated up the Apollo," his manager, Scooter Braun, told MTV News.
While the repairmen struggled to fix the problem, Justin soldiered on and started performing his hits unplugged. A seasoned performer at this point, those in attendance say he adapted to the situation and managed to put on an entertaining show.
OK! NEWS: JUSTIN BIEBER: WITHOUT MY FANS I WOULD HAVE QUIT MUSIC
"I'm sorry the power is out. (But) you guys have always had my back. I'm going to sing 'Boyfriend' and you're going to sing it back to me,'" he said to the hordes of teen girls in the audience.
He even jovially Tweeted after the gig: "That is how u end an #AllAroundTheWorld run!!! With no power for the last song ... my fans sang it 4 me!"
That being said, the 40 minute glitch was frustrating considering the concert was being filmed for an NBC Believe record release special. No word on if the network plans on showing the unplugged version.